Tutorial Contents
What is FormMax
The Application Windows
Lesson 1: Drag & Drop From Design
Lesson 2: Customize the Form
Lesson 3: Set the Tab Order
Lesson 4: Automatic Data Entry
Lesson 5: Adding Formulas
Lesson 6: Fill out the Form
Lesson 7: Export forms to popular formats


What is FormMax?
FormMax is the Internet's most powerful electronic form program for Microsoft Windows. FormMax is available for Windows 9x/Me/ NT/2000. You can download a free trial version of FormMax here.

FormMax is ideal for making professional business forms, including:
Accounting Forms
Office Forms
Human Resources Forms
Legal Forms
Sales Forms
Real Estate Forms
Travel Forms
Etc...

You are not only able to generate professional-quality forms with the complete toolset, but also able to make your products intelligent with the capable AutoFill and Formula features. Don't forget, no cost for the people who fill in your forms. You can download our easy-to-use filler here.

The Application Windows
A picture is worth a thousands words.



Lesson 1: Drag and Drop From Design
You'll work faster and more effectively when you take the drag-and-drop approach to designing forms. There are more than a dozen highly intuitive tools in FormMax to help you do it.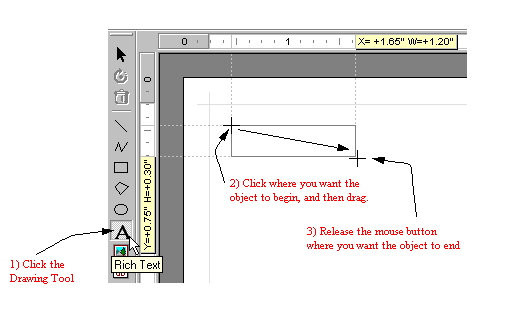 Lesson 2: Customize the Form
Click to select an object. A selected object has blue Selection Handles at the corners.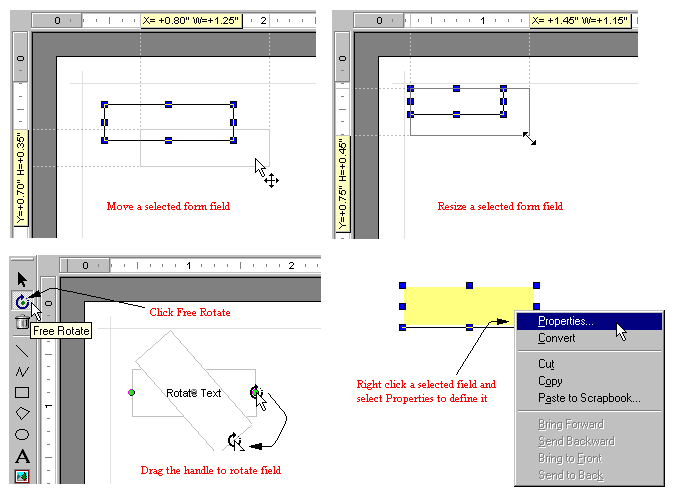 Lesson 3: Set the Tab Order
Tab order is the order in which the cursor moves from edit to edit on a form in filler. You may want to change tab order if you have added, deleted, or moved fields.

Choose Tab Order command from the Tools menu to open the Setting Tab Order dialog box.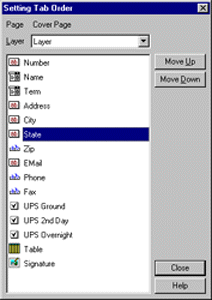 Reorder the fields as desired.
Lesson 4: Automatic Data Entry
Using the AutoFill Wizard, you can set up a form for automated data entry. You can fill fields automatically using fields sharing, lists you create, lists from OLE DB/ODBC data sources, or lists from FormMax forms or databases. So that once one field is filled other fields will be automatically filled.

Lesson 5: Adding Formulas
FormMax formula does not only perform mathematical calculations on numbers. It also include Logical Comparison, Aggregate functions, String functions, Date/Time functions, and Financial functions. It even allows professional user to define variable to construct complex formulas.
With drag-and-drop editor, uses are able to create logical formula in minutes.


Lesson 6: Fill out the Form
FormMax contains two modes, design and fill. In design mode, you edit forms and design forms. In fill mode, you fill out, save, print forms and form data and use the database functions of FormMax. FormMax Filler contains only the fill mode of FormMax. It's a $0 cost product designed as a companion for FormMax, for users who only need to use the fill mode functions of FormMax.
Easy tab-and-type entry makes filling out forms simple, and with AutoFill, drop-down choices, and automatic calculations you get perfect results every time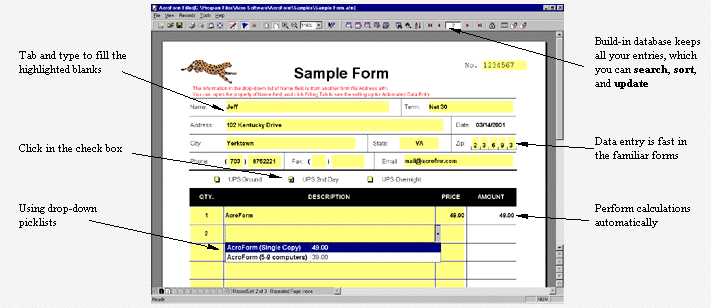 Lesson 7: Export forms to popular formats
You may export forms to RTF, HTML, and PDF formats in FormMax.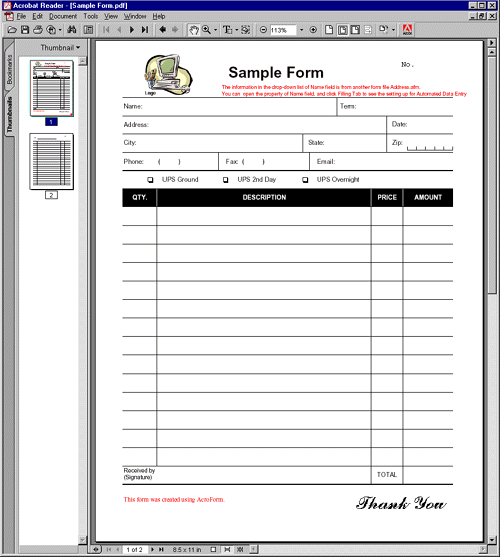 Enjoy FormMax

We hope this quick overview has helped you get started with FormMax. For complete information on FormMax's features, which go well beyond those described here, consult the FormMax Online Manual.



To order FormMax, Click Here.

Return to Home Page